Looking for Kenji (step two)
creation 2012,
11th. of March, one year after Fukushima.

Choreography:..................... Jean Laurent Sasportes
Music Composition: .............. Tetsu Saitoh
Music Interpretation: .............Tetsu Saitoh (Doublebass und Percussion)
,
....... Naoki Kita (violin and telling)
Dancers:..............................Chikako Kaido, Chrystel Guilebaud,
..............................Chu-Hsien, Antonio Stella, Jean Laurent Sasportes
Stage Scenery: .................... Kay Fobbe
This piece was inspired from the poems and ltterature work of Kenji Miyazawa, a very important japanese writer.

- About Miyazawa Kenji -
Kenji Miyazawa (宮沢 賢治 Miyazawa Kenji, 27 August 1896 - 21 September 1933) was a Japanese poet and author of children's literature in the early Shōwa period of Japan. He was also known as a devout Buddhist, vegetarian and social activist.
Kenji has transcended the generations to become one of Japan's most read and best loved authors. Born over a hundred years ago in 1896 in Iwate Prefecture, he was only 37 at the time of his death. Kenji's literary works received scant attention during his lifetime and only two books were published before his passing: a collection of children's tales entitled "The Restaurant of Many Orders" and the first section of his most famous work of poetry, "Spring and Ashura." The remainder of the great number of children's stories and poems that he left behind was edited and published only posthumously, after which the richness and depth of his art finally gained wide recognition.
He died in 1933 of pneumonia.
for more information aout Kenji Miyazawa, please visit:

http://fr.wikipedia.org/wiki/Kenji_Miyazawa
Why Kenji Miyazawa?
The fisrt reason was that after reading some fairy tales writen by Kenji, I expressed my enthusiasm to my friend Roger Pulvers who is director of the CSWC at the Tokyo Technology Institute. Roger was Kenji's english translator for his poems and he published a translation of a selction of Kenji's poems with the title "Strong in the Rain". SInce I was working as adjoint professor for the CSWC, Roger asked me to choreograph and dance a piece based on some of Kenji'spoems. This demand was done a few months before the drama of 11th. of March 2011, but was supposed to be presented in May 2011. I was supposed to travel to Tokyo on the 14th. of march to start my work on ths piece, but because of the earthquake, the tsunami and the nuclearplant accident, I decide to delay my trip to the 14th. of april. So, when i started to work on this piece with Tetsu Saitoh, we realized that doing a piece about Kenji Miyazawa in Japan after 11th. of March had another connotation then before. For many reasons that I will develop later, a work about Kenji would be, for the japanese public, necessary closely connected to what happened in Fukushima prefecture and because of this matter touch a very sensitive theme.
Kenji Miyazawa and the 11th. of March.
On June 15th. 1896, year of Kenji's birth, Iwate Prefecture was hitten by a very strong earthquake and tsunami (Meiji-Sanriku earthquake). This quake occurred off the coast of Sanriku in Iwate Prefecture, causing a tsunami of 25 m (82 ft) 35 minutes after the quake which destroyed hundreds of houses and killed over 22,000 people. The year of his death (21st. September 1933), also happened "1933 Sanriku earthquake", a major earthquake whose associated tsunami caused widespread damage to towns on the Sanriku coast of the Tōhoku region of Honshū, Japan in 1933.
Japan, in its earthquake and Tsunami history had unfortunately to suffer very often from particularely strong seismic disaster, and there is nothing to see in relation with Kenji's birth year and death year then a simple matter of fact.
Some of those major earthquake and tsunami left many dead and injured victims behind them and it has been certainly a tremendous hard work for the population to rebuilt their country and its agriculture potential. But the 2011's major one had one more high dramatical side in it. The disaster left thousands dead and inflicted extensive material damage to buildings and infrastructure that led to significant accidents at four major nuclear power stations.
Kenji was very attached to his homeland and, from 1926 until his death in 1933, he struggled to improve the material and spiritual life of the impoverished peasants of his native Iwate. He introduced new agricultural techniques and new varieties of seeds. His writings from this period show sensitivity for the land and for the people who work in it.
After March 11th. many folks from all parts of the world sent their message of sympathie to the japanese folk. Many of those messages was in the form of some video and audio recording showing a chorus of poeple singing Kenji's poem "Standing in the Rain". This poem became a sympbol of the japanese vision of courage and honesty and it is known by every japanese.
------------------------------------- to the top



- About the piece "Looking for Kenji" -
The Piece "Looking for Kenji", has been presented, in its «first step» version, for the first time at the Auditorium of the CSWC (Center for Studies of the World Civilizations) of Tokyo. Roger Pulvers was the director of the CSWC and the translator from Japanese into English of Kenji's poems. He demanded me to create a dance-theatre piece inspired by some poems of my choice, out of his book «Strong in the Rain".

I was supposed to start my work on 2011 March 14th. but since the terrible earthquake, tsunami and nuclear power plan catastrophe happened, I delayed my travel to Japan and could only start the work by the middle of April.
This first presentation was a short version and work in progress of the »step two» version that we presented in "AdaOben" in Wuppertal (Germany) on the 11th. of March 2012, one year after the dramatic catastrophe.
Discovering Kenji's universe has been for me a beautiful experience and I am very thankful to Roger for introducing to me to it. The first step version's cast had no other dancer then me and a reduce amount of tableaux compared to the final version.
During his university time, Tetsu Saitoh studied the works of Kenji, and his help has been incredibly helpful for a "gaijin" (a foreigner) like me.
The musician and composer Tetsu Saitoh did some arrangement of certain of his compositions and created some new compositions for this piece. But first of all, I should tell about Yuji Kobayashi's painting "The Forest".
Yuji Kobayashi is a great painter living in Saitama. Yuji and Tetsu work often together and I had the grew pleasure to perform many times with both of them in what we call "Living painting performances". A few months before 11th. go March 2011, Yuji finished a work that he named "The Forest" and ask Tetsu to compose some musics for the presentation of his painting. Tetsu's compositions, released on a CD with the title "The Flooded Forest" became also a part of "Looking for Kenji"'s music work. (for more information about the paintor Yuji Kobayashi, please visit: http://atelier.yuji-kobayashi.net)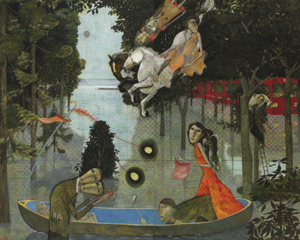 Tetsu adapted his music composition for double bass and violin and ask the violinist Naoki Kita to be part of the piece.
The japanese folk of Iwate and its surrounding speaks a very specific japanese dialect with a specific accent. SInce Kenji Miyazawa use his hometown dialect in his poems, and Naoki, native from Iwate, was able to speak this dialect with its appropriated accent, we decided to ask Naoki Kita (violin) if he will accept to tell on stage some of the poems. So, this how and why we have the pleasure to listen to Naoki telling us on stage "Last Farewell" and "The Winds Are Calling".
As I wrote before, short after the 11th. of March, I did delay my travel to Japan and spent a month in Wuppertal waiting for the situation to get more clear. During this period I did two Skype-transmited performance with Tetsu and Naoki who where in Tokyo, and the visual artist Kai Fobbe helped me for this performances. Kai's work was perfect for this purpose and it was obvious that he should also be part of the realisation of «Looking for Kenji».
The first tableau is inspired by Kenji's Text "Indra's Net".
The second is the poem "the Last Farewell" that Kenji wrote for his sister who sadly died from tuberculose as she was young. Kenji and his sister was very close and his sister's death affected him very strongly.
The third one is "the Winds are calling by the front Door". Kenji wrote this poem as he was convalescent, recovering from an heavy tireless due to overwork. Maybe, as Roger said, did Kenji felt the first sights of the sickness which a short time later will take his life at the age of thirty eight.
The fourth tableau is an illustration of the poem "the Swordsmen's Dance of Haratai". I preferred to use "Jô" "a cane out of wooden" instead of "boken" (a sword out of wooden) because it will fit better to the choreography that I had in mind, and anyway my intention with choreography was to express more the strong energy of the swordsmen dancers then to try to reproduce a japanese country folk dance.
The fith tableau was what we called the "Flooded Forest". Directly related to Yuji's painting and Tetsu's music, the dancing swans are a memorial thought to the soul of the poor people who lost their lives in this horrible tsunami.
for more information about the piece, please download the brochure: "Looking for Kenji" - not yet, sorry -
------------------------------------- to the top
- Kenji's poems

(english translation: Roger Pulvers) -
THE MORNING OF LAST FAREWELL

O my little sister
Who will travel far on this day
It is sleeting outside and strangely light
(fetch me the rainlike snow)
The sleet sloshing down
Out of pale red clouds cruel and gloomy
(fetch me the rainlike snow)
I shot out into the midst of this black sleet
A bent bullet
To gather the rainlike snow for you to eat
In two chipped ceramic bowls
Decorated with blue watersheds
(fetch me the rainlike snow)
The sleet sloshes down, sinking
Out of sombre clouds the color of bismuth
O Toshiko
You asked me for a bowl
Of this refreshing snow
When you were on the point of death
To brighten my life for ever
Thank you my brave little sister
I too will not wawer from my path
(fetch me the rainlike snow)
You made your request to me
Amidst gasping and the intensest fever
For the last bowl of snow given off
By the world of the sky called the atmosphere the galaxy and sun
The sleet, desolate, collects
On two large fragments of granite blocks
I will stand precariously on them
And fetch the large morsels of food
for ma sweet and tender sister
Off this lustrous pine branch
Covered with transparent cold droplets
Holding thevpurewhite dual properties of water and snow
Now today you will part for ever
With the deep blue pattern on these bowls
So familiar to us as we grew up together
(I go as I go by myself)
You are truly bidding farewell on this day
O my brave little sister
Burning pale white and gentle
In the dark screens and mosquito net
Of your stifling sickroom
This snow is so white everywhere
No matter where you take it from
This exquisite snow has come
From such a terrifying and disarranged sky
(when I am born again
I will be born to suffer
Not only on my own account)
I now will pray with all my heart
That the snow you will eat from these two bowls
Will be transformed into heaven's ice-cream
And be offered to you and everyone as material that will be holy
On this wish I stake my very happiness.
------------------------------------- to the top
The WINDS ARE CALLING BY THE FRONT DOOR

The winds are calling by the front door
'Get yourself up and
Get out here this instant
In your sienna shirt
And the tattered old overcoat of yours'
Then another wind screams hot on its heels
We're all there
Waiting for you to show yourself
We've got your favorite drops of sleet
Shooting across the air
So rush out, will you
And keep your promise to marry
The one among us
Who sings in a beautiful soprano voice
In the blackened leafless forest
Above the giant jagged rock in the distance'
The winds continue their screaming outside
not letting up for a moment
------------------------------------- to the top

THE SWORDSMEN'S DANCE OF HARATAI

dah-dah-dah-dah-dah-sko-dah-dah
O dancers of Hatarai Village
Decked in tufted cowls cowls of black tailfeather
Brandishing your single-edge blades
Under tonight's crescent moon of strange array!
You cast the damask-rose milk of spring
Into the privation of alpine farming
You dedicate the blue-green fires on the living dawn
To the wind and the light of the plateaus
You envelope yourselves in twine and linden bark
O my friends, warriors of the atmosphere!
You intensify the white-hot lights of the sky
You gather the grief of the beech and the oak
You display signal fires in the serpentine mountains
You shake out the locks of the cypress
And blaze new nebulae
In a sky the scent of quince
dah-dah-sko-dah-dah
You whittle your skin in humus and earth
You coarsen your sinews and bones in cold carbonic acid
You troubled yourselves each month over sunlight and wind
O paternal masters who have spent your years in piety!
On this night celebrating forest and galaxy
You sound your drums even more fiercely
Where the skyline sweeps peneplain
You reverberate the clouds clouding the palest moon
Ho! ho! Ho!
long ago King of Akuro of Tatta
lived in a pitch-black cave five miles long
crossed only by dreams and the god of darkness
his head was chopped up fine and pickled
And you roll Andromeda into your signal fire
the bluster of those blue masks
bathed in swordplay and gasping for the breath
spider's dance at the nadir of the nightwind
puked out its writhing spindly sac
dah-dah-dah-dah-dah-sko-dah-dah

You set your blades together with yet more skill
You give off the blue tongues of immense thunder
You invite the demons of the four corners of the night
On this night of all nights when the sap shudders!
With your red robes fluttering against the ground
You deify both the wind and the hailcloud
dah-dah-dah-dah
The night wind thunders the cypresses tousled
The moon a row of arrows shot through in silver light
Struck and passing on... the life of a spark
Seconds before the grating of blades dies out
dah-dah-dah-dah-dah-sko-dah-dah
The swords' stirring a harwest lightning
The bed of the Milky Way that bears no trace
Og the rain of fire scattered into the Lion
Struck and passing on... a single life
dah-dah-dah-dah-dah-sko-dah-dah
------------------------------------- to the top
- Kenji's poems (german translation: Anja Greeb) -
DER MORGEN DES LETZTEN ABSCHIEDS

Oh, meine kleine Schwester
weit fort wirst du heute reisen
Schneeregen und sonderbares Licht gibt es draußen
(fang mir den tropfenden Schnee)
Die nassen Flocken klatschen herunter
heraus aus blassroten Wolken, grausam und glimmend
(fang mir den tropfenden Schnee)
Ich schoss mitten in diesen schwarzen Schneeregen
eine gezielte Kugel
um den tropfenden Schnee zum Essen für dich aufzufangen
in zwei angeschlagenen Keramikschalen
mit blauem Wasserschild verziert
(fang mir den tropfenden Schnee)
Die nassen Flocken klatschen herunter,
lassen aus dunklen Wolken die Farbe von Bismut ab
Oh, Toshiko
du fragtest mich nach einer Schale
von diesem erfrischendem Schnee
als du auf der Schwelle zum Tod standest
um mein Leben für immer aufzuhellen
Danke, meine tapfere kleine Schwester
ich werde auf meinem Weg nicht zaudern
(fang mir den tropfenden Schnee)
Du sprachst mir deine Bitte aus
inmitten von Keuchen und heftigstem Fieber
um die letzte Schale Schnees
angeboten von der Welt des Himmels
Atmosphäre, Galaxie und Sonne genannt
Der Schneeregen, trostlos, sammelt sich
auf zwei großen Bruchstücken von Granitblöcken
Ich werde unsicher auf ihnen stehen
und die großen Bissen Nahrung
für meine süße und zarte Schwester einfangen
von diesem glänzenden Kiefernzweig
bedeckt mit durchsichtigen kalten Tropfen
die zweifachen reinweißen Eigenschaften von Wasser und Schnee bereithaltend
Nun willst du dich heute für immer trennen
von dem dunkelblauen Muster auf diesen Schalen
uns beiden so vertraut, da wir zusammen aufwuchsen
(Ich gehe so als ob ich für mich allein ginge)
Du bittest wahrhaftig um Abschied heute
oh, meine tapfere kleine Schwester
verglühst zartweiß und vornehm
zwischen dunklen Wandschirmen und Moskitonetz
deines stickigen Krankenzimmers
Dieser Schnee ist überall so weiß
egal woher man ihn nimmt
Dieser erlesene Schnee kam
aus solch furchterregendem und verwirrtem Himmel
(wenn ich wiedergeboren werde
werde ich zum Leiden geboren
nicht nur meinetwegen)
Ich werde nun von ganzem Herzen beten
dass der Schnee, den du aus diesen beiden Schüsseln essen wirst
in himmlische Eiskrem verwandelt
und dir und allen Menschen als ein geweihtes Element gereicht wird
In diesen Wunsch lege ich mein ganzes Glück

DIE WINDE RUFEN VON DER HAUSTÜR

Die Winde rufen von der Haustür
'Steh auf und
komm sofort heraus
in deinem siennafarbenen Hemd
und deinem zerrissenen alten Mantel'
und sogleich ruft ein anderer Wind
´Wir sind alle hier
warten nur darauf, dass du dich zeigst
haben deine geliebten Schneeregentropfen hier
schießen sie waagerecht durch die Luft
Also komm heraus, ja?
Und halte dein Versprechen
diejenige von uns zu heiraten
die mit wunderschöner Sopranstimme singt
im schwarzen blattlosen Wald
über dem hohen zerklüfteten Felsen in der Ferne!'
Draußen setzen die Winde ihr Kreischen fort
ohne Unterlass
------------------------------------- to the top

DER TANZ DER SCHWERTKÄMPFER VON HARATAI
dah-dah-dah-dah-dah-sko-dah-dah
Ihr Tänzer des Dorfes Hatarai
mit gesteppten Haube aus schwarzen Schwanzfedern geschmückt
schwingt eure einseitig geschliffenen Schwerter
im mysteriösen Schein des zunehmenden Mondes dieser Nacht!
Ihr gießt die Damaszenerrosenmilch des Frühlings
in die Entbehrungen der Bergbauern
Ihr widmet die blau-grünen Feuer der lebhaften Dämmerung
dem Wind und dem Licht der Hochebenen
Ihr hüllt euch in Ranken und Lindenrinde,
meine Freunde, ihr Krieger der Atmosphäre!
Ihr verstärkt die glühend weißen Lichter des Himmels
Ihr nehmt den Kummer der Buche und der Eiche auf
Ihr macht die Feuerzeichen in dem Serpentingebirge sichtbar
Ihr schüttelt die Locken der Zypressen aus
und verbreitet neue Nebelflecken
in einem Himmel voller Quittenduft
dah-dah-sko-dah-dah
Ihr ritzt eure Haut in Humus und Erde
Ihr härtet eure Sehnen und Knochen in kalter Kohlensäure
Ihr mühtet euch monatlich um Sonnenlicht und Wind
Oh, ihr väterlichen Gebieter, die ihr eure Jahre in Frömmigkeit verbracht habt!
In dieser Wald und Galaxie huldigenden Nacht
lasst ihr eure Trommeln noch erbitterter ertönen
dort, wo der Horizont das Hochland entlangstreicht
Ihr reflektiert die Wolken, die den so blassen Mond verdunkeln
Ho! ho! Ho!
Vor langer Zeit lebte König Akuro von Tatta
in einer pechschwarzen fünf Meilen langen Höhle
belästigt nur von Träumen und dem Gott der Dunkelheit
sein Kopf wurde feingehackt und eingelegt
Und ihr rollt Andromeda in euer Feuerzeichen
in das Wutgeschrei dieser blauen Masken
gebadet im Schwertkampf und um Atem ringend
Spinnentanz am Totpunkt des Nachtwindes
der seinen verdrehten ausgemergelten Balg ausgewürgt hat
dah-dah-dah-dah-dah-sko-dah-dah
Ihr kreuzt eure Waffen mit großem Geschick
Ihr stoßt die blaue Laute eines ungeheuren Donners aus
Ihr ladet die Dämonen aus den vier Winkeln der Nacht
In dieser Nacht der Nächte, wenn das Blut stockt!
Mit euren roten, auf dem Boden flatternden Gewändern
vergöttlicht ihr beide, den Wind und die Hagelwolke
dah-dah-dah-dahh
Der Nachtwind tost in den zerzausten Zypressen
Der Mond eine Reihe Pfeildurchschüsse in Silberlicht
Angeschlagen und vergehend… das Leben eines Funkens
Sekunden bevor das Wetzen der Klingen vergeht
dah-dah-dah-dah-dah-sko-dah-dah
Das Schwert zündet einen ertragreichen Blitz
Das Bett der Milchstrasse, die keine Spur
von dem in den Löwen gesprengten Feuerregen hinterlässt
Angeschlagen und vergehend… ein einzelnes Leben
dah-dah-dah-dah-dah-sko-dah-dah
------------------------------------- to the top